Crane wheels
Crane wheels are a rail-mounted part of the moving mechanism of lifting equipment. This group of machines consists of
tower
,
gantry
,
bridge (overhead)
and
console (jib) cranes
, operation of which involves restricted conditions (e.g. production shops, warehouses, railways).
As any spare part crane wheels can be replaced to extend the overall life of the equipment. Obligatorily wheel must be changed in the following cases:
When does a crane wheel require a replacement?
in case flange, wear reaches over 50% of the original thickness;
in case wheel tread wear reaches more than 15-20% of the original thickness of the rim;
in case open cavities formed on the tread surface or inside the casting, are not subject to welding; their total area is not more than 4% of the total surface and sizes, and total depth is not more than 5% of the rim thickness);
in case of throughwall cracks of the wheels.
There are ways to repair the wheel without its complete replacement, but only a specialist can give such a conclusion that can be carried out only in case of regular technical inspection following the dynamics of all crane wheels wear.
Own production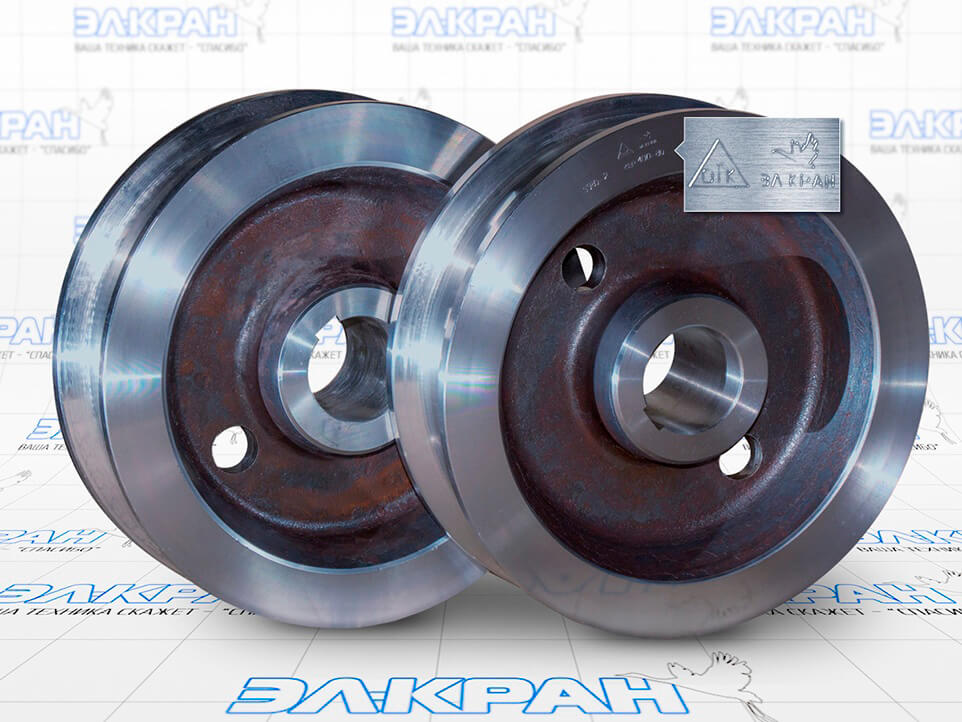 Tower crane running wheels К2R 500х90. Drawing No. Y2260.30.01.002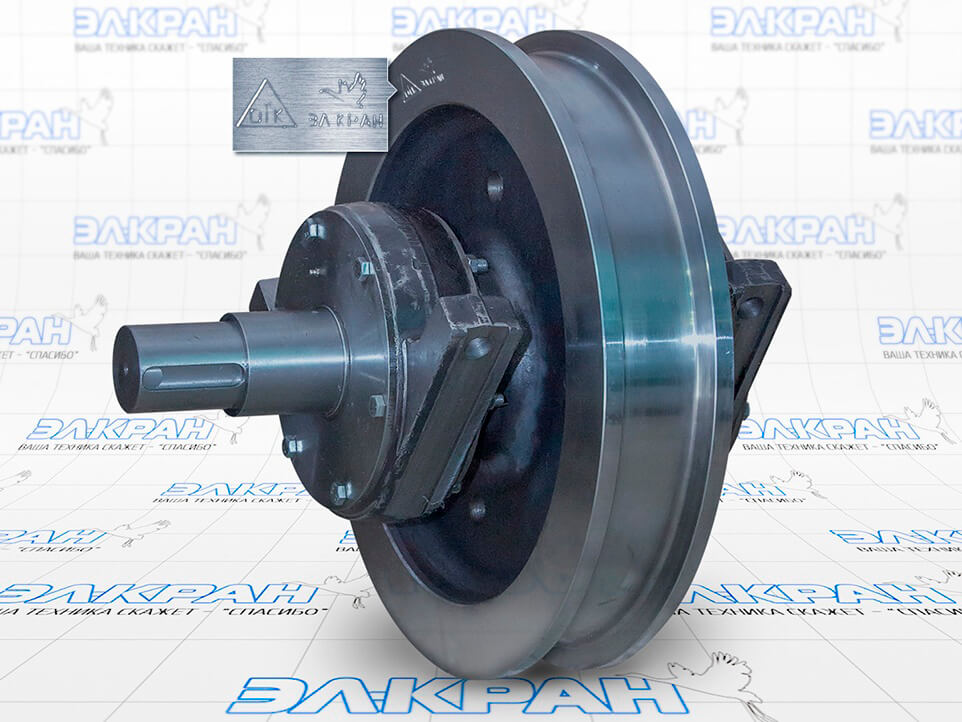 Wheel kit with double- flange crane wheel K2R-500х100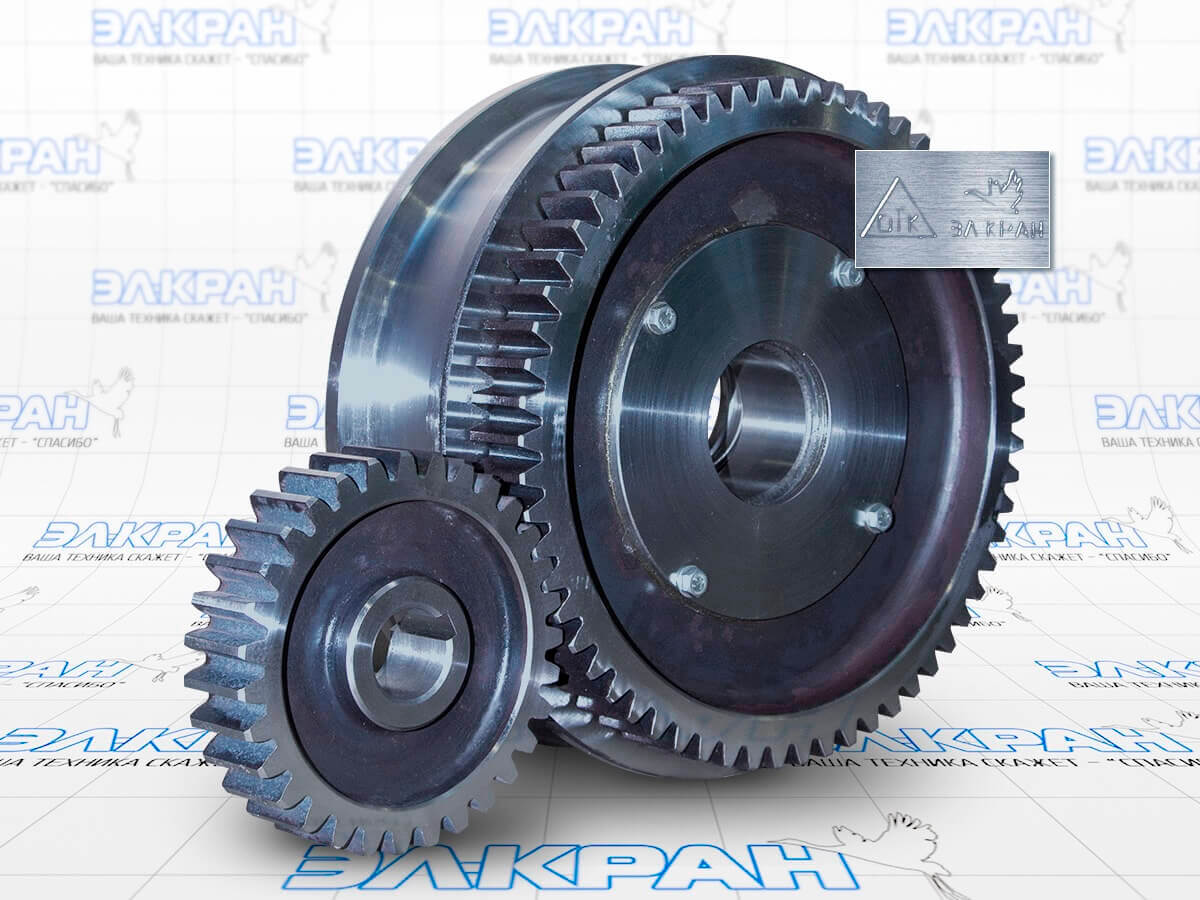 Running drive wheel for ККS-10 crane - drawing (catalogue) number К12.5.01.04.111 assembled with a mating gear. Mating gear part number - KS 07.08.004
Crane wheel complete range
El-Kran has the following always-in stock customized range of items as single-flange crane wheels (K1R), double-flange crane wheels (K2R) and double-flange crane wheel assembly (K2R-SBR). Crane wheels are available in standard sizes, manufactured in accordance with GOST 28648-90. Material - steel 65G (GOST 14959-79), hardening method – sorbitizing (GOST 28648-90), hardness depth 320-390 НВ (GOST 28648-90).
The entire range of crane wheels can be divided into "standard" and "non-standard" sizes. A standard size suggests production of crane wheels using stamped blank – which means that the required size of the finished product can be entered into dimensions of the stamped blank without breaking GOST regulations for crane wheels. "Non-standard" crane wheel usually made from a forging. A forging has no holes for the shaft or hub and thus does not limit the finished wheel in size. Due to various features of metal working, finished products quality is higher when stampings are used as a crane wheel blank. "Standard" order execution time covers a period from 5 to 14 working days and "non-standard" order time will be 15 to 30 working days.
All crane wheels can be executed in the following versions: idle wheel, driving wheel, press-in shaft wheel, wheel kit. Each wheel must obligatory have Quality Control department stamp, stamped manufacturer's trade mark, standard sizes and wheel factory number. Finished goods which do not comply with crane wheels labeling regulations are considered violating GOST 28648-90. Each crane wheel with El-Kran factory stamp has its finished product certificate. Each wheel assembly has all additional certificates for crane assemblies (bearings certificates, shaft blanks certificates, certificates for boxes, covers and keys).
If your crane requires non-standard wheels or you do not have a drawing for a particular spare part we are ready to take up your order. All necessary work will be carried out within the shortest possible time in full compliance with the GOST requirements. Any drawings for crane wheels of any complicated order will be performed by us free of charge. If you need to specify the type of the crane wheel that needs replacement on site our representative is ready to go to your site.
Crane wheel own production
Crane wheels manufacturing in our own production facilities enabled our company to make a number of so-called "know-how", so that the crane wheel with the factory mark "EL-Kran" were recognizable and in demand in the market. Suffice it to say that we consistently get superior working surface of the wheel which is characterized by the depth of hardening, strictly corresponding to the typical sizes, but at the same time preserving the toughness and elasticity of non-working zones of the initial state of the material. The range of the hardness descent gradient into deep at sorbitizing in our facilities already provides parameters, more fluid than it is required by state standards, but we want to achieve more and continue production testing.
In practice, this significantly increases the service life of a crane wheel and, consequently, improves the performance of the crane. Another important reliability factor of our equipment is a comprehensive implementation of the rules of the operation and maintenance of our crane wheels and neighboring parts. Our practical experience in this assigned area we generalize and put on the internet in the form of thematic articles to each product section.
Flexible pricing approach for our crane wheels
If you decide to buy any of El-Kran crane wheels, the offered price for our crane wheels will be the most flexible on the market; our smooth-running production enables products release without products quality loss. And searching for a "crane wheel drawing" on the internet you can be absolutely sure that namely our specialists will perform your order in accordance with all regulations of the state standards.