Crane wheel blanks
Crane wheel blanks are the starting material used to manufacture finished products. Nowadays, crane wheels which are obtained from steel not lower than 65G by stamping and forging are considered «high quality» according to GOST 14959, . Subsequent machining makes it possible to obtain crane wheels of any type and size in accordance with the customer's working designs.
Most commonly, blanks made by stamping are usually called stampings, and forging - forgings.
Choosing a method for manufacturing a crane wheel is a responsible procedure in which the future configuration, dimensions, tolerances, machining allowances, manufacturing specifications are related to the economic feasibility of the process. As a result, only an experienced specialist is able to see the optimal balance of quality, price and manufacturing time of the crane wheel and can select the type of blank for the crane wheel.
Crane wheelblanks in stockand to order
The «El-Kran» company is constantly improving its approach to the manufacturing of crane wheels of a full range. Working on optimizing the source material for finished products is its most important component.
Today we purchase crane wheel blanks for standard sizes from OJSC «Uralskaya Kuznitsa». These stampings cover more than 90% of the size requirements for the most common and demanded wheels. Firstly, the minimum allowances for the processed surfaces allow to reduce waste (chips) - a more homogeneous metal structure lends itself better to mechanical processing. Secondly, the process of heat treatment (sorbitization) of the working surface of the wheel is much better - more presice tuning of the equipment of the thermal section and careful control at all its stages (hardening, cooling, tempering) makes it possible to obtain wheels with a smooth gradient of hardness from the surface to the depth. Thus, the finished product comes out of the stamped blank in the shortest possible time and with the best quality characteristics.
You can also buy blanks for crane wheels in our company - we are ready to supply almost all diameters of stamped blanks for crane wheels within 1 to 3 days. The products are certified and are constantly tested by our own crane wheel production. You can find out special prices for blanks for crane wheels from our managers. It is convenient to order a call or leave a message directly from the site. The sale is carried out both by availability - from stock, and by request.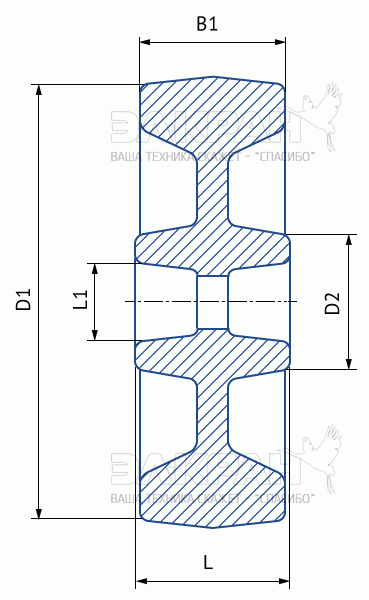 Drawing 5. Stamped blank for crane wheel
Table 5. Blanks for standard sizes of crane wheels
CODE
D1
DIAMETER
BLANKS,
mm
D2
EXTERNAL
DIAMETERHUBS,
mm
L1
DIAMETER
LANDING
HOLES, mm
B1
WIDTH
BLANKS,
mm
L
WIDTH
LANDING HOLES,
mm
MASS
STAMPING
BLANKS,
kg
E0585
368
119
63
148
148
96
K0653
452
140
82
152
156
128
Ya0587 (for the KKS-10 crane)
550
300
228
155
210
233
К0965
552
175
108
152
152
183
T0432
552
175
108
162
162
195
Ya0062
653
230
130
210
160
361
K0781
772
220
125
158
158
422
Y1508
775
220
125
185
175
446
The stamped blanks listed in the table are the initial material for the manufacture of crane wheels of types K2R, K2R-SB, K1R and K1R-SB.
Blanks for crane wheelsof non-standard sizes
In about 10% of cases when we receive orders for crane wheels of the so-called "non-standard" types and sizes. Since the dimensions of the wheels are not strictly standardized, the designer has the right to set them by himself, if this does not contradict the relevant standards of GOST 28648-90. In such cases, we have to use all our experience and authority in the industry to justify the proposed manufacturing option. The decisive factor in the dialogue with the customer is our archive of ready-made working designs and our portfolio of similar successfully completed orders.
In a number of situations, it is impossible to avoid the use of forged blanks as a starting material. The dimensions of crane wheels, for which stampings are not made, include all crane wheels with a rolling surface diameter (D) up to 300 mm (260X70, 260X80, 200x60, 250x70).
Wheels which are made of a forged blank (forged or forged circle) has inferior characteristics to those of stamped wheels. Making wheels from forging is a more laborious and relatively expensive method. This is primarily due to a significant increase in the volume of machining. It can be justified in the case when the customer does not see an opportunity to put stamped wheels with similar standard sizes on his crane. A forged circle can be selected for the manufacture of crane wheels of any size.